Signing order is now available in Oneflow!
1645194600000
We've had the Signing order feature under beta testing for a period of time and it's now available to all Oneflow users.
Signing order lets you configure the order your contract should be signed in.
How it works
To enable the feature, all you have to do is press the "Signing order" toggle in the contract sidebar. Every participant will get a number to the right of their name where you can select which order they will receive and be able to sign the contract.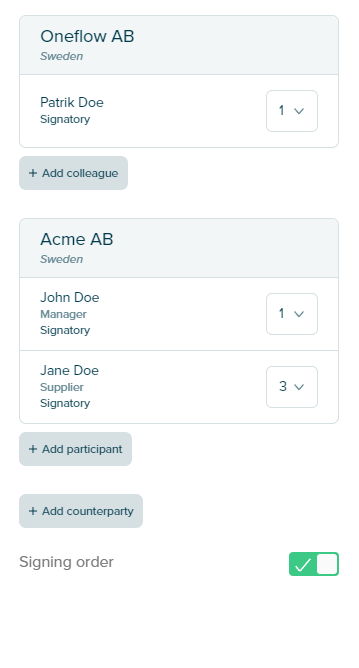 If a participant is not a signatory they will receive the contract and it'll then automatically continue to the next one in the order if there is no signatory in the same step.
Keep in mind that Signing order is only available in draft contracts and once the contract has been sent, you can no longer change participants or the Signing order. To change participants or the Signing order, you will have to create a new contract.
Changes from beta
For those that have been using Signing order under it's beta, Signing order now supports parallel signing order, which means that multiple participants can sign at the same step.
You can read more about signing order in our help center
We hope you enjoy this new feature and continue to work wonders!
Did you like this update?