Filter on your colleagues
1619170800000
It is now possible to filter on your colleagues in the contract list. Previously, you could only filter out contracts that had yourself as a participant. This will make it a lot easier for you when searching for contracts with specific colleagues in them.
How it works
All you have to do is to select the colleagues that you want to filter on from the list. You can also choose to match all colleagues if you have selected more than two colleagues. This will then only display contracts that contains at least the selected colleagues.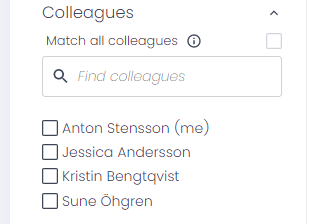 Did you like this update?